Atlas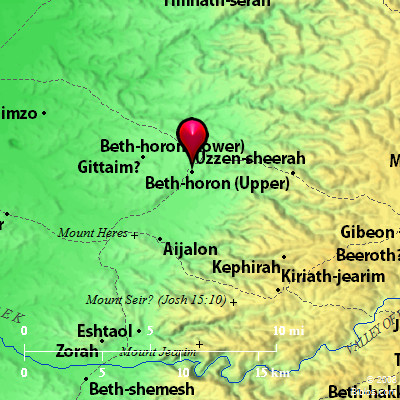 ---
Maps Created using Biblemapper 3.0
Additional data from OpenBible.info
---
You are free to use up to 50 Biblos coprighted maps (small or large) for your website or presentation. Please credit Biblos.com.
Occurrences
1 Chronicles 7:24
His daughter was Sheerah, who built Beth Horon the lower and the upper, and Uzzen Sheerah.
Encyclopedia
UZZEN-SHEERAH
uz'-en-she'-e-ra ('uzzen she'erah; Septuagint, instead of a place-name, reads kai huioi Ozan, See ra, "and the sons of Ozan, Sheera"; the King James Version Uzzen-sherah, uzzen-she'ra): As it stands in Massoretic Text this is the name of a town built by Sheerah, daughter of Ephraim, to whom is attributed also the building of the two Beth-horons (1 Chronicles 7:24). No satisfactory identification has been proposed. Septuagint suggests that the text may have been tampered with.
Strong's Hebrew
H242: Uzzen Sheerah
"portion of Sheerah," a place in Palestine