Atlas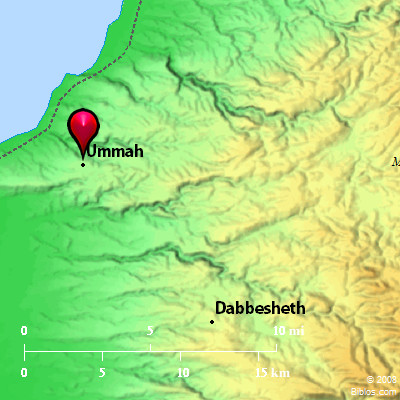 ---
Maps Created using Biblemapper 3.0
Additional data from OpenBible.info
---
You are free to use up to 50 Biblos coprighted maps (small or large) for your website or presentation. Please credit Biblos.com.
Occurrences
Joshua 19:30
Ummah also, and Aphek, and Rehob: twenty-two cities with their villages.
Encyclopedia
UMMAH
um'-a (`ummah; Archob, Amma): One of the cities allotted to the tribe of Asher (Joshua 19:30). By a slight emendation of the text it would read Acco, the name of the place subsequently known as Ptolemais, the modern `Akka. This emendation is generally adopted by scholars, although it is at best a conjecture. No other identification is yet possible.
Strong's Hebrew
H5981: Ummah
a city in Asher