Atlas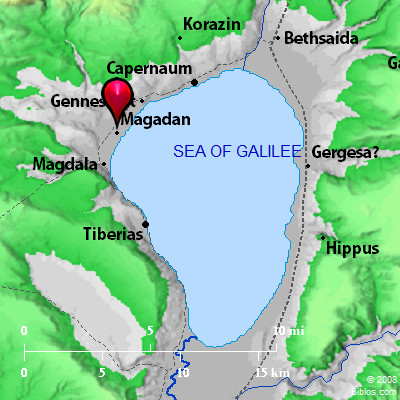 ---
Maps Created using Biblemapper 3.0
Additional data from OpenBible.info
---
You are free to use up to 50 Biblos coprighted maps (small or large) for your website or presentation. Please credit Biblos.com.
Occurrences
Mark 8:10
Immediately he entered into the boat with his disciples, and came into the region of Dalmanutha.
Encyclopedia
DALMANUTHA
dal-ma-nu'-tha. See MAGADAN. Compare Mark 8:10 Matthew 15:39.
---
DALMANU'THA, of Mark 8:10, was on the w. of the sea of Tiberias; from comparison with Matt. 15:39, it must have been near Magdala and some ruins and springs called ain el Barideh, are supposed to be at the place.
Strong's Greek
G1148: Dalmanoutha
Dalmanutha, an unidentified place near the Sea of Galilee